Program Overview & Structure
The IMPACT Edition of Unpacking Racism for Action educates community members, career professionals, and organizational leaders on implicit bias and systemic racism, providing them with the necessary tools and training to address issues of racism within their community and advocate for racial equity throughout society.  
The IMPACT Edition is offered twice a year with fall and spring semesters. Each semester is comprised of six evening sessions (6:00 PM – 8:30 PM) that are delivered over the course of 3 months. Discussion topics include:  
Identity Formation, Intersectionality, & Cultural Identity

The History of Race in the United States

Race, Power, and Privilege

Structural and Institutional Racism 

Challenging Implicit Bias and Microaggressions

Social Construction of Whiteness

The Impacts of Anti-Blackness Nationally & Globally

Racism Beyond Black and White

Advancing Antiracism & Racial Equity in Our Daily Lives
Applications for Fall 2023 IMPACT Cohort
Applications for the Fall 2023 IMPACT Cohort are now being accepted. Programming dates for the fall cohort are:  
Session 1: Wednesday, October 11, 2023
Session 2: Wednesday, October 25, 2023
Session 3: Wednesday, November 8, 2023
Session 4: Wednesday, November 15, 2023
Session 5: Wednesday, November 29, 2023
Session 6: Wednesday, December 6, 2023
Click here for instructions on how to apply for the Fall 2023 IMPACT cohort.
Watch the recording of our most recent informational webinar to learn more about the Unpacking Racism for Action IMPACT Edition program mission, structure, and application process.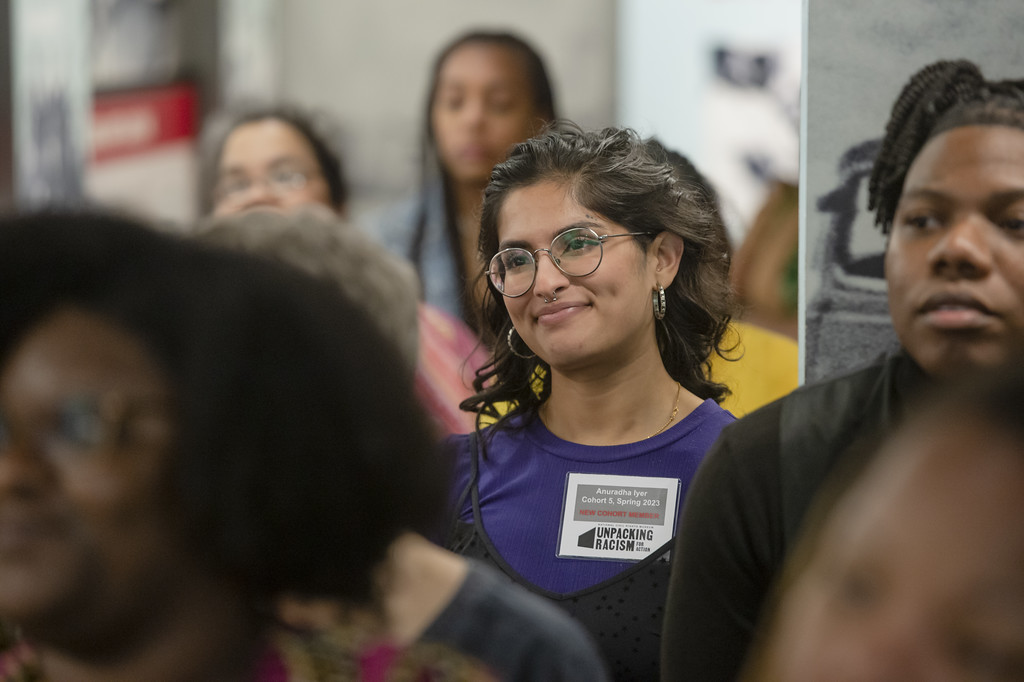 Each cohort is comprised of a diverse group of 20-30 individuals committed to using their skills, experience, and insights to positively contribute to the cohort learning environment and become changemakers within their community. As a community-wide program, we welcome applicants from all backgrounds, education levels, industries, and sectors.
Click below to learn how you can apply for the next Unpacking Racism for Action IMPACT Edition cohort.